My Blog
Posts for: December, 2012
By Eureka Family Dental Care
December 19, 2012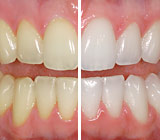 If you cringe at the appearance of your less than pearly whites when you look in the mirror, you are not alone. A frequently requested cosmetic procedure, teeth whitening is a very successful and relatively inexpensive way to enhance your smile. We can determine which whitening treatment will work best for you after performing a basic oral examination in our office. When will it work and when won't it? Here's some background:
Teeth most commonly become stained or discolored due to surface (extrinsic) changes, the most common of which are dietary and smoking. Foods including red wine, coffee, and tea can cause extrinsic staining. Teeth can also commonly become discolored or stained due to intrinsic (internal) reasons, such as changes in the structure of enamel or dentin or by incorporation of chromogenic (color generating) material into tooth tissue during formation or after eruption.
Toothpastes that claim to whiten teeth are only effective in removing plaque and other surface stains. Although most of these products contain mild abrasives that remove the plaque, they aren't capable of changing the underlying color of stained teeth.
Tooth polishing by your dentist or dental hygienist is effective in removing superficial staining, but will not change tooth color.
Teeth whitening systems work by bleaching, generally with the use of hydrogen peroxide. Using bleaching gels in custom made trays or whitening strips can be done at home, but is slow and the changes are gradual. We can perform quicker and more effective "power bleaching" in our dental office when precautions can be taken to ensure safety due to the higher concentrations of bleaching gels used. Teeth with intrinsic (internal) staining may need internal bleaching to whiten them and this can only be done in the dental office.
Teeth whitening results fade over time, but optimally last from six months to two years. Taking care of your newly whitened teeth by avoiding the foods, beverages, and habits that cause staining will help them remain whiter for longer.
If you have had previous cosmetic dentistry performed, including the placement of composite restorations, porcelain veneers, or crowns, teeth whitening may not be for you. Bleaching agents have little to no effect at all on the materials used to create these restorative products.
If you would like to discuss whitening your teeth with us, call today to make an appointment. To learn more about the various teeth whitening procedures, read the Dear Doctor magazine article "Teeth Whitening: Brighter, Lighter, Whiter…"
By Eureka Family Dental Care
December 04, 2012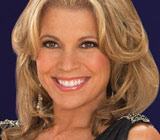 Describing Vanna White, co-host of the hit television game show Wheel of Fortune as friendly is an understatement. Yes, a good portion of the credit goes to her bubbly personality; however, you can't look at her without noticing her world-famous smile.
During an interview with Dear Doctor magazine, Vanna shared some of the secrets to her trademark smile. Secrets that she is instilling in her children.
"I floss every day and I brush my teeth at least twice a day — morning and night — and sometimes after lunch." She added, "I think that flossing is the most important thing. I believe that dental floss helps a lot, as it keeps your gums strong and looking younger." And when asked about how often she has her teeth professionally cleaned she replied, "...every four to five months because I get a lot of plaque buildup."
A typical dental hygiene visit is one that involves prophylaxis, a dental (and insurance) term for scaling and or polishing procedures to remove plaque and calculus (tartar) from the crown or portion of the tooth that you can see. Scaling is a procedure where we use special hand-held instruments and/or ultrasonic scalers to remove plaque, bacteria and tartar that can coat your teeth causing them to feel rough or fuzzy. To polish your teeth, we use a rubber polishing cup, prophy paste and a motorized instrument that removes bacterial plaque and surface stains. This is usually the last portion of a routine cleaning because it leaves your teeth feeling smooth and shiny.
However, if you have been seeing blood when you brush your teeth or while flossing, you have the telltale signs of periodontal (gum) disease. During your cleaning appointment, we will clean below the gum line to treat and manage your periodontal disease (an infection of the gum and jaw bones). We may also discover that additional, deep-cleaning treatments (such as root planing) may be needed to treat and manage your periodontal disease.
To learn more about this topic, continue reading the Dear Doctor magazine article "Teeth Polishing." Or you can contact us today to schedule an appointment so that we can conduct a thorough examination and cleaning. And if you want to read the entire feature article on Vanna White, continue reading "Vanna White."