My Blog
Posts for: April, 2013
By Eureka Family Dental Care
April 20, 2013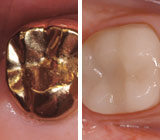 A "crown" or a "cap" is the term used to restore a decayed or broken tooth that needs to be completely encased to protect the tooth beneath it. A crown's dual purpose is to restore the tooth's form and function. Decades ago gold was the material of choice for a crown. What we ultimately choose depends on a particular crown's requirements with regard to the tooth's appearance and function, and to some extent what you want.
Gold: Gold crowns last the longest and wear the best (at about the same rate as natural teeth), but they are not used as frequently today, especially if they are visible in a person's smile. Gold crowns are made of cast gold, a technique that has been in use for over a hundred years. They can last for decades, and have been known to last 50 years or more. They tend to cost less per tooth than porcelain or other materials.
All-Porcelain: "All porcelain" crowns have a natural appearance and as technology improves they are gaining popularity. Dental porcelains are composed of ceramic substances that are variations of glass. This gives them their translucent, lifelike appearance — but it makes them brittle and subject to fracture. Therefore all-porcelain crowns may not be a good choice for back teeth because they frequently fail under the biting forces applied during chewing and especially adverse habits like tooth clenching or grinding. Porcelain crowns are made of material that doesn't wear. Consequently, it can cause excessive wear to the teeth they bite against.
Porcelain-Fused-to-Metal (PFM): PFM crowns have been in use for more than 40 years. They combine a substructure of gold or platinum for strength and have porcelain "facings" for the visible surfaces. In some ways they combine the best of both worlds, but they do have some problems; the metal can show through the porcelain, detracting from its life-like appearance. These crowns can have a functional lifespan of about 20 years or more.
New and Future Materials: Newer "pressed-ceramic" restorations and computer-milled ceramics have received good reviews for aesthetics and service. These new materials are being intensively researched. Initial results look good, but we'll have to see how they last over time.
Contact us today to schedule an appointment or to discuss your questions about crowns and other dental restorations. You can also learn more by reading the Dear Doctor magazine article "Gold or Porcelain Crowns?"
By Eureka Family Dental Care
April 05, 2013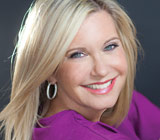 Though it's been a while since Olivia Newton-John sang her way into our hearts in the movie Grease, her smile is as radiant as ever. Today, Olivia is still singing, acting and busy with new ventures such as authoring a cookbook and raising money for the cancer center that bears her name in Melbourne, Australia. Whichever part of the world Olivia finds herself in, she protects that beautiful smile with an oral appliance that many find beneficial.
"I wear a nightguard to prevent wear on my teeth, custom-made by my dentist," Olivia recently told Dear Doctor magazine. "I love it!"
Olivia's device, also referred to as a bite (occlusal) guard, is designed for people who clench or grind their teeth at night, or during stressful periods. Made of thin, wear-resistant plastic, it is custom-made to fit exactly over your top teeth. This allows the bottom teeth to slide gently across the top teeth without biting into them. Not only does this prevent excessive tooth wear, it also helps relax the muscles of the jaw.
Grinding or "bruxing," as it's also called, can affect virtually any part of the oral system: the jaw joints or muscles, resulting in spasm and pain; the teeth themselves, resulting in wear, fractures or looseness; it can even cause an aching in the ears, head, neck or back.
If you are a teeth-grinder, you might not even know it unless a sleeping partner hears it or your dentist notices signs of wear. These habits are called "parafunctional" (para – outside, function – normal), meaning the biting forces it generates are well outside the normal range — sometimes as much as 10 times normal. So it's no wonder that damage to teeth can occur if they are not protected.
If you have any questions about grinding habits or nightguards, please contact us or schedule an appointment for a consultation. If you would like to read Dear Doctor's entire interview with Olivia Newton-John, please see "Olivia Newton-John." Dear Doctor also has more on "Stress & Tooth Habits."