My Blog
Posts for: August, 2013
By Eureka Family Dental Care
August 29, 2013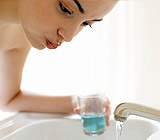 There are dozens of brands of mouthwashes and rinses on drugstore shelves that American consumers buy each year for clean breath and oral health. But the question is do they really work?
To properly answer that, you should first know that mouth rinses fall into two general categories: cosmetic and therapeutic. A cosmetic rinse can give you a temporary "clean" feeling in the mouth (usually masking bad breath with a more pleasant smell) but in the long run doesn't contribute to better oral health. On the other hand, therapeutic rinses do enhance oral health; they contain one or more ingredients that can help prevent the development of tooth decay and/or inhibit bacterial growth.
Although some therapeutic rinses are prescribed by dentists, many are available over-the-counter (OTC). Decay-fighting rinses usually contain sodium fluoride, which has been amply demonstrated to strengthen the surface of teeth and thus inhibit tooth decay and the likelihood of new cavity development — but only when used in combination with good hygiene practices. Anti-bacterial rinses contain ingredients such as triclosan, zinc or essential oils like menthol that reduce the level of bacteria in plaque (when also coupled with good oral hygiene). This also helps reduce the growth of decay.
For some patients a prescription rinse may be in order, especially during recuperation from oral surgery or where normal plaque control is difficult. The most common rinse contains chlorhexidine, a chemical that prevents bacteria from sticking to the teeth. The effectiveness of chlorhexidine, especially in helping to control gingivitis (inflammation of the gums) and preventing tooth decay, is well-documented after many years of research and use. While it may cause teeth staining in some patients, the staining can be alleviated by ultrasonic scaling or polishing.
So then, should you incorporate a mouth rinse into your daily hygiene regimen, and if so, what kind? That will depend on your own individual oral health needs, which we can advise you on. Knowing what your own needs are and the different kinds of mouth rinses and what they are designed to do, you can make an informed choice.
If you would like more information on the use of mouthwashes or rinses, please contact us or schedule an appointment for a consultation. You can also learn more about this topic by reading the Dear Doctor magazine article "Mouthrinses."
By Eureka Family Dental Care
August 14, 2013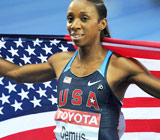 Lashinda Demus holds the U.S record in the 400 meter hurdles, with a time of 52.47 seconds, the third fastest ever recorded. While her twin 5-year-old boys cheered her on, she brought home a silver medal from the 2012 London Olympics. But when it comes to her full set of upper and lower braces, there's no silver to be seen!
Demus is a top-ranked competitor, a wife and a mom — and an adult who is currently in orthodontic treatment. With her orthodontist's approval, she chose clear ceramic braces. These are just one of the treatment options available to adult patients, many of whom prefer a less noticeable style of orthodontic appliance.
As many as three-quarters of adults are thought to have some form of orthodontic problem. Common issues include teeth that are crowded too closely together, or ones that have drifted too far apart after an extraction or other tooth loss. It is believed that straightened teeth are easier to clean and better for chewing — they can also improve an adult's social life, and even his or her career prospects!
Some grown-ups may hesitate to consider orthodontic treatment because they remember the "railroad tracks" they saw in junior high school. In fact, there have been many changes in orthodontic appliances in the past few years. Two popular choices for adults are colorless braces (the kind Demus wears) and clear orthodontic aligners.
Colorless ceramic braces are made of high-tech composite materials. They resist staining, and are less noticeable because their translucent appearance blends with the teeth. Often, a single wire is the only part that's plainly visible. Sometimes it's even possible to place them on the lingual (tongue) side of the teeth.
Clear aligners are an alternative to braces that are available to adults and teens. Instead of wires and attachments, these consist of a series of transparent, removable trays that are placed over the teeth and worn 20 hours per day. Over a period of six months to two years, the teeth are gradually straightened as you progress from one computer-designed tray to the next. Best of all, you can remove the trays completely to clean your teeth, and for important occasions.
Which one is right for you? It depends. While aligners have been successful in treating mild to moderate spacing issues, more difficult problems with the bite may require a more traditional form of braces. Also, there are a few health problems which might need to be attended to before orthodontic treatment is begun. The best way to learn about your options is to come in for a consultation. But remember: if you want a better smile, it's never too late.
If you would like more information about orthodontic choices, please contact us or schedule an appointment for a consultation. You can also learn more by reading the Dear Doctor magazine articles "Orthodontics For The Older Adult" and "Clear Orthodontic Aligners."