My Blog
Posts for: January, 2014
By Eureka Family Dental Care
January 23, 2014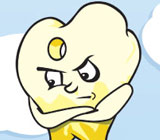 When do you think is the earliest age that tooth decay can start? Would you be surprised to learn that the answer is… just two months!
In spite of our best efforts, throughout the world tooth decay remains the most common chronic disease of childhood. And the unfortunate truth is, it's largely preventable. Tooth decay is caused by harmful bacteria living in the mouth. These bacteria produce acids as a byproduct of feeding on the sugar we consume. The acids attack the hard enamel surfaces of the teeth, eventually making the small holes we know as cavities.
For thousands of years, these bacteria have been thriving in the carbohydrate-rich environment of our mouths. Kids aren't born with these germs — often, however, they are passed directly from caregiver to child. But there are things you can do to keep from passing the bacteria to your children. For example, don't share toothbrushes; don't put items in baby's mouth after you have licked them or put them in yours; and, if you have untreated dental disease, try to avoid kissing the baby's lips. (And for goodness sake, don't pre-chew a baby's food, no matter what any celebrity may suggest.)
One effective way to control tooth decay is by reducing the amount of sugar in the diet. Sodas and candy aren't the only culprits — fruit juices are also high in sugar. And remember, it's not just what your child eats or drinks that matters, but when they consume it. Given time, saliva will neutralize and wash away the acids that bacteria produce. But if kids are constantly taking in sugar, the saliva can't keep up. So give those little teeth a break — limit sugar to mealtimes, and avoid sweet treats at other times of day.
What other steps can you take to stop tooth decay before it starts? It helps to identify kids who may be more susceptible to dental disease. Given the same diet with the same oral hygiene practices, some children are much more likely than others to develop tooth decay. If these high-risk kids receive preventive treatments — such as fluoride varnishes, help with diet modification, and other measures — early tooth decay can be successfully prevented, and even reversed in some cases.
If you're concerned that dental treatment may be too scary for little ones, you should know that we put a great deal of effort into making office visits as stress-free as possible. We have plenty of tricks to keep youngsters happy — and distracted — while we take care of business. You can help too… by maintaining a positive outlook and setting a good example.
If you would like more information about cavity prevention for children, please contact us or schedule an appointment. You can learn more in the Dear Doctor magazine article "Taking the Stress Out of Dentistry for Kids."
By Eureka Family Dental Care
January 08, 2014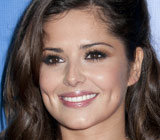 What if you had orthodontic treatments to enhance your smile — and nobody knew about it until it was all done?
That (almost) happened to British singer, cover girl and television personality Cheryl Cole. Since her big break in 2002, on the British reality show Popstars: The Rivals, Cole has had a successful music career, taken turns judging both the British and American versions of The X Factor, and graced the covers of fashion magazines like Elle and Harpers Bazaar.
And somewhere along the way, Cole wore an orthodontic appliance. It very nearly went undetected… until a colleague spilled the beans. That's when Cole was forced to divulge her secret: For a period of time, she had been wearing clear aligners on her teeth. Until her frenemy's revelation, only a few people knew — but when you compare the before-and-after pictures, the difference in her smile is clear.
So what exactly are clear aligners? Essentially, they consist of a series of thin plastic trays that are worn over the teeth for 22 hours each day. The trays are custom-made from a computerized model of an individual's mouth. Each tray is designed to move the teeth a small amount, and each is worn for two weeks before moving on to the next in the series. When the whole series is complete, the teeth will have shifted into their new (and better aligned) positions.
Besides being virtually unnoticeable, aligners are easy to remove. This makes it easy to keep the teeth clean — and can come in handy for important occasions (like cover-photo shoots and acceptance speeches). But don't remove them too frequently, or they won't work as planned. If that's a possibility (with teens, for example), aligners are available with "compliance indicators" to ensure they're being worn as often as they should be. They can also be made with special tabs to hold a place for teeth that haven't fully erupted (come in) yet — another feature that's handy for teens.
So if you need orthodontic work but prefer to stay "under the radar," ask us whether clear aligners could be right for you. Cheryl Cole did… and the results gave her something more to smile about.
If you would like more information on clear aligners, please contact us or schedule an appointment for a consultation. You can learn more about this topic in the Dear Doctor magazine articles "Clear Orthodontic Aligners" and "Clear Aligners for Teenagers."