My Blog
Posts for tag: dental injuries
By Eureka Family Dental Care
October 30, 2013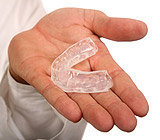 Youth sports can be a positive life experience for your child or teenager. But there's also a risk of injury in many sporting activities, including to the teeth and mouth. An injury to the mouth, especially for a child or young adolescent whose teeth are still developing, can have a significant negative impact on their oral health.
When it comes to teeth or mouth injuries, the best preventive measure is for your child to wear an athletic mouthguard, especially for contact sports like football, hockey or soccer. But be warned: not all mouthguards are alike — and neither is their level of protection.
Mouthguards can be classified into three types. The first is known as "stock," which is the least expensive and offers the least level of protection. They usually are available only in limited sizes (small, medium, large, etc.) and cannot be custom-fitted for the individual. This significantly lowers their protective ability, and thus we do not recommend these to our patients.
The next type is referred to as "boil and bite." These mouthguards are made of a material called thermoplastic, which becomes pliable when heated. When first purchased, the guard is placed in boiling water until soft; the individual can then place them in the mouth and bite down or press the guard into the teeth until it hardens and forms to their palates. Although this type offers a better fit and more protection than stock mouthguards, it isn't the highest level of protection available.
That distinction goes to the last type — a custom mouthguard made by a dentist. Although the most expensive of the three, it offers the best fit and the highest level of protection. A well-made custom mouthguard is tear-resistant, fits comfortably, is easy to clean and doesn't restrict speaking and breathing. We recommend this guard as your best alternative for protecting your child athlete from tooth and mouth damage.
If you would like more information on the use of athletic mouthguards for young athletes, contact us or schedule an appointment for a consultation. You can also learn more about this topic by reading the Dear Doctor magazine article "Mouthguards."
By Eureka Family Dental Care
January 05, 2013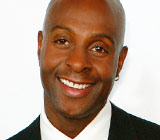 As a Pro Football Hall of Famer and first runner up on the hit television show Dancing with the Stars, Jerry Rice has a face and smile that truly has star quality. However, that was not always the case. During an interview with Dear Doctor magazine, the retired NFL pro discussed his good fortune to have had just a few minor dental injuries throughout his football career. He went on to say that his cosmetic dentist repaired several of his chipped teeth with full crowns. Rice now maintains his beautiful smile with routine cleanings and occasional tooth bleaching.
If you have chipped, broken or missing teeth, or are considering a smile makeover, we want to know exactly what you want to change about your smile, as the old adage is true: Beauty is in the eyes of the beholder. This is one reason why we feel that listening is one of the most important skills we can use during your private, smile-makeover consultation. We want to use this time to ensure we see what you see as attractive and vice versa so that together we can design a realistic, achievable blueprint for your dream smile.
For this reason, we have put together some questions you should ask yourself prior to your appointment:
What do you like and dislike about the color, size, shape and spacing of your teeth?
Do you like how much of your teeth show when you smile and when your lips are relaxed?
Are you happy with the amount of gum tissue that shows when you smile?
Do you prefer a "Hollywood smile" with perfectly aligned, bright white teeth, or do you prefer a more natural looking smile with slight color, shape and shade variations?
To learn more about obtaining the smile you want, continue reading the Dear Doctor magazine article "Great Expectations — Perceptions In Smile Design." Or you can contact us today to schedule an appointment so that we can conduct a thorough examination and discuss your cosmetic and restorative dentistry treatment goals. And if you want to read the entire feature article on Jerry Rice, continue reading "Jerry Rice — An Unbelievable Rise To NFL Stardom."