My Blog
Posts for tag: periodontal disease
By Eureka Family Dental Care
December 24, 2013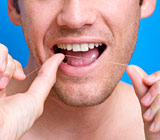 Your gums are red around the margins and bleed whenever you brush or floss but there's minimal to no pain... You: (select the most appropriate answer[s])
are brushing or flossing too vigorously
have an accumulation of dental plaque where the teeth meet the gums
are using a toothbrush that's too firm
are experiencing early signs of gum disease
should see your dentist if this persists for more than 6 months
Kudos if you picked b) and d). The most common cause of bleeding gums is the accumulation of dental plaque (bacterial deposits) at the gum line, which is an early sign of periodontal (from the Latin "peri" – around, and the Greek "odont" – tooth) disease. It is usually painless so people tend to underestimate the risk of allowing gum disease to progress and become a more significant problem.
It's a common misconception that bleeding gums are caused by brushing or flossing too vigorously or using a toothbrush that's too firm. This is sometimes the case, but the abrasion would probably cause noticeable pain. Instead, it's likely that you're not brushing and flossing effectively enough, allowing bacterial deposits to accumulate at the gum line and feed on food particles that haven't been adequately flushed from your mouth.
The bacterial deposits form a whitish film that is hard to detect when you look in the mirror. But you will notice bleeding and redness and eventually inflammation of the gums — an immune response to disease-causing bacteria that flourish in the plaque. As the biofilm grows, with time it also hardens (calcifies), making it increasingly difficult to dislodge. Eventually, only professional cleaning can remove it and sometimes antibiotics are needed. If no action is taken, gum disease will progress, and eventually cause loss of the underlying bone that anchors the teeth.
There are other reasons that gums may bleed, such as elevated hormone levels in women, a side effect of certain medications, or a systemic (bodily) disease. Whatever the cause, it's important to get a professional diagnosis promptly and take appropriate therapeutic action as needed. Optimally, with good oral hygiene and regular checkups, you can avoid this problem entirely!
If you would like more information about preventing or treating bleeding gums, please contact us or schedule an appointment for a consultation. You can also learn more about this topic by reading the Dear Doctor magazine article "Bleeding Gums."
By Eureka Family Dental Care
September 23, 2013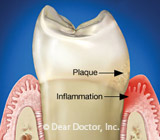 Do you frequently experience bleeding gums during your daily brushing routine? You might assume that you are brushing too hard and that this bleeding is normal. However, you should know that any bleeding of gum tissue is abnormal and should be considered a potential sign of gum disease.
Gum tissues usually bleed because of dental plaque buildup from poor oral hygiene practices. When the plaque is left around the gum line for a long period of time, 24 hours or more, the gum tissues respond by becoming inflamed — this can quickly become a chronic inflammation.
Here are some other warning signs of gum disease:
Bad Breath. Bad breath is one of the most common signs of gum disease. This is especially true for those who do not floss, because plaque collects in the protected areas between the teeth making them especially prone to gum inflammation. This plaque often produces a pungent smell that causes bad breath.
Red or Sensitive Gums. If you look closely in the mirror, you might see redness of the gums. It may also seem as if your gums are swollen, and in more advanced cases, this can lead to receding gums. Finally, you might notice gum sensitivity when you brush or a sensitivity to hot and cold.
Tooth Loss. If this disease goes untreated, over time, bone loss will cause loose teeth, movement or migration of the teeth into a new and unstable position, and ultimately tooth loss. The rate of progression will depend upon the type of gum disease that you have.
Painful Gums. Once you start to feel acute pain and extremely sore gums, this may mean you have developed a periodontal abscess. When this happens, the bacteria are walled off inside a gum "pocket," and since your body's defenses are overwhelmed, there is a battle between the bacteria in that pocket and your body's defense mechanisms. The result is a collection of pus and extra bone loss. Your gums will be sore, swollen, red and may even discharge pus.
As you can see, the further the disease progresses, the greater the amount of pain and damage that will occur. Therefore, upon the first sign of gum disease, such as bleeding gums, you should schedule an appointment with us immediately.
If you would like more information about gum disease, please contact us. You can also learn more by reading the Dear Doctor magazine article "Warning Signs of Gum Disease."