Dentist in Eureka, MO
All our professionals at Eureka Family Dental maintain high levels of accreditation and pursue ongoing education to stay abreast of the latest treatments and trends in dentistry.
Dr. Julie Damico Farrar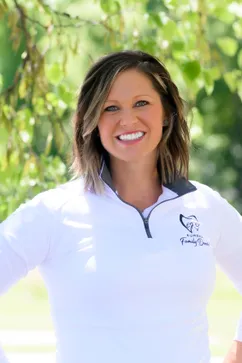 Dr. Julie Damico Farrar was raised in Gray Summit, Missouri and was actively involved in her school and community. She was a multi-sport athlete and graduated with honors from Pacific High School. She attended Indiana State University on a softball athletic scholarship and graduated in 2007 as a Presidential Scholar Athlete with her Bachelors in Exercise Science. Dr. Julie completed her Doctor of Dental Surgery in 2015 at the University of Missouri-Kansas City.

She is an active member of the American Dental Association, the Missouri Dental Association, the Greater St. Louis Dental Society, the Academy of General Dentistry, and SPEARS Innovative Dental Continuing Education.
She and her husband Ryan have 3 children, 2 little girls, Leah and Hailey and a little boy, Connor. They have recently moved back to Pacific and are excited to become active members in the community. Raising their girls around all the wonderful things that are available locally has always been their ambition. Dr. Farrar loves sports, being outdoors, exercising, and being with her family. She is looking forward to making you a part of her dental family. Her favorite aspect of dentistry is helping patients gain confidence through their smile. Her compassionate personality will put all your dental fears to ease.
Dr. Rocky Lupardus, D.M.D.
Dr. Rocky was born and raised in Granite City, Illinois. He received his Bachelors degree in Food Science at the University of Illinois in 1983. From there he attended Dental School at Oral Roberts University in Tulsa, Oklahoma (where he met and married his wife) until the school was closed and then transferred to Southern Illinois University School of Dental Medicine in Alton, Illinois where he obtained his D.M.D. degree in 1987.
He then spent a year in a General Practice Residency Program in the U.S. Army at Fort Jackson, S.C. From there he was a dentist in Munich, Germany for three years, then on to Fort Sam Houston in San Antonio, Texas, then Fort Sheridan, Illinois for a year, and another year in Fort Leonard Wood, Missouri. He left active duty as a Major in 1993 and remained in the reserves for another two years.
After leaving the military, Dr. Rocky wanted to bring his family back close to home and found a great community to live and work in. In 1993 he took over the dental practice of Dr. Mario Conte on Central Avenue in Eureka, Missouri. Over the years the practice outgrew that location and in 2001, the present modern office building was completed with the latest dental equipment and technology. The practice continues to grow with satisfied patient's word-of-mouth referrals.
Dr. Rocky earned the Fellowship Award in the Academy of General Dentistry (F.A.G.D.) and has taken hundreds of hours of continuing education in dentistry. He is also a member of the American Dental Association and the Christian Dental Society.
Dr. Rocky resides in Eureka, Missouri with his wife, Christine. Two of their children, Ryan and Amanda, live in the St Louis area. His oldest daughter, Brittany is married to Kris Klinkerman and currently resides in the St. Louis area with their 2 young boys, Wyatt and Remy.
Meet Our Staff
Say hello to our smiling and friendly staff! Our team is devoted to making your dental experience a pleasant one and will cater to your every dental need, from scheduling to budgeting to coping with a nervous patient, we are here for you. Our goal is to provide you with a dental experience beyond compare. Our team cares about getting to know you personally and has genuine concern for your comfort before, during and after your treatment. We stay current in the latest technologies by attending professional education seminars and workshops.
Scheduling Coordinator

A native of Northeastern Ohio and graduate of Miami University Kellie joined our team for the first time in 2002. After moving to Arkansas for several years, she returned to Eureka and the practice in 2016. Being a Eureka resident herself, she enjoys meeting new people but also seeing all of her neighbors and friends. She will most likely be the first person to answer your phone call or greet you upon your arrival into the office.

Outside of work, Kellie enjoys exercising, traveling, and spending lots of time with her family.

Receptionist

Heather was born in Seoul, Korea and has lived in 3 different countries and 10 states. She graduated from Westminster Christian Academy in Ladue and most recently studied Public Relations at Missouri Baptist University. She has worked as a dental assistant, hygiene coordinator and office manager in the dental field. In her free time  Heather breeds exotic cats, enjoys traveling and is a proud wife and mother of 3 kids. She is thrilled to be working at Eureka Family Dental with such an amazing team!


Dental Assistant

Brenda was born in St. Louis and attended Pacific High, graduating in 1974. She then moved to Florida for a few years to only move back to Pacific to be closer to her family and friend. After Graduating from Meramec Community College Dental Assistant program in 1980 she began working for Eureka Family Dental Care. Dr. Rocky took ownership of the practice in 1993, she continued as a team member and is now enjoying dentistry still with Dr. Farrar.

This great practice, co-workers, and doctors make working very enjoyable for Brenda. She strives to give the best care to her patients alongside her family at Eureka Family Dental.

Dental Assistant

Jodi graduated from the dental assisting program at Missouri College in 2005.

Jodi is proud to be the adoptive mother to her niece and nephew.

Outside of work she can be found finding little adventures and making memories with family, friends and pets.

Dental Assistant

Mandi grew up in St. Louis Missouri. She attended Fort Zumwalt South Highschool. After Highschool Mandi pursed studies for her associate in Criminal Justice and then on too Missouri College for her Associates in Dental Assisting graduating in 2005. She has 15 years of experience in all aspects of Dentistry including Orthodontics, Oral Surgery and Sedation Dentistry. She brings a lot of compassion and knowledge to the Eureka Family Dental Team.

In her free time she loves to exercise go hiking and attend her 4 children Kaden, Kennadi , Brandon and Charleigh's sports and activities. She also enjoys traveling with her husband Mike. Mandi enjoys being part of the Eureka Family Dental Team and continuing to grow as a Dental Assistant

Dental Hygienist

Chris graduated from dental hygiene at Forest Park Community College in 1986. She had worked for Eureka Family Dental since 2001 and loves where she works.

In her spare time, she loves to craft, watch movies, and spend time at her family cabin in the wood in Bourbon, MO.

Chris was born into a large family of 6 kids where they were raised St. Louis, MO. Her and her husband are the proud parents of 2 kids and a dog. Her family means everything to her.

Dental Hygienist

Whitney grew up in Imperial. She and her husband, Dustin, now have lived in Eureka for 10 years with their 2 boys, Layton and Daxton. She graduated from Forest Park Community College in 2008 with her certificate in Dental Assisting. She then worked as an orthodontic assistant for 5 years. Whitney went back to Dental Hygiene school and graduated in 2013 from Forest Park Community Collage with her Associated in Applied Science of Dental Hygiene.

She enjoys making relationships with her patients while helping them maintain and love their healthy smiles.

In her free time, she enjoys camping, concerts, and spending time with her family.

Dental Hygienist

Colleen was born and raised in St. Louis. She worked as a Dental Assistant for 10 years, and decided to Missouri College where she graduated hygiene school in 2015. In her spare time she loves to camp and hike around Missouri. She is a mom to 19 chickens that she loves taking care of and sharing their eggs with friends and family.

Dental Hygienist

Jossalyn graduated from Lewis and Clark Community College in 2005 with her Associate of Applied Science in Dental Hygiene. 

She has lived in Eureka for the last 13 years with her 3 children, Austin, Kaleb, Ella and her goldendoodle puppy, Ruby. She is excited to be part of the team at Eureka Family Dental and provide dental care to the community she loves! In her spare time she enjoys time with family, traveling and shopping.

Treatment Coordinator

Maria grew up in Gray Summit and attended Pacific High School.  She went on to attend SIU-Carbondale where she played collegiate softball and graduated Cum Laude with 2 bachelors degrees; Accounting & Finance.    


Maria is a proud mom of 2 kids, Tyson and Sophia and a firefighter wife.  Maria and her family are active in the community and want to continue to see growth and positivity in the surrounding area. She resides in Gray Summit in a home she helped build with her husband and dad. 

In her spare time, she enjoys playing slowpitch softball with her sisters and husband, hanging out with friends and family at backyard gatherings and being on the water.  She also enjoys going to auctions, shopping, gardening and road tripping new adventures with her family.